With CastConnectPro we internationally support professional casting directors, commercial casting agencies and extras agencies.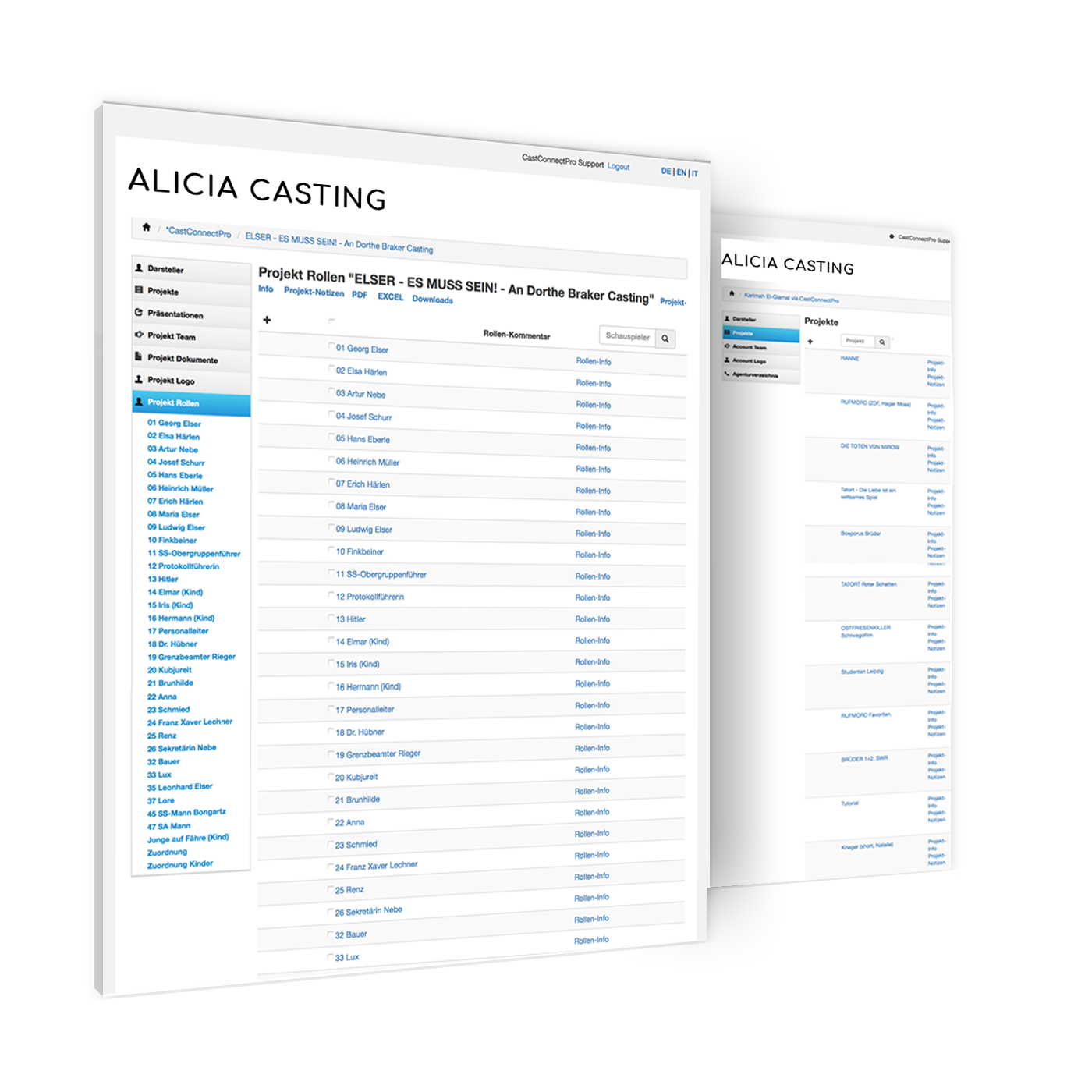 Alicia Eidesund Casting, Norway
The Norwegian casting director Alicia M.Eidesund casts the main roles as well as supporting roles and extras with CastConnectPro for Norwegian productions and international productions that are shot in Norway.
Due to the flexibility of CastConnectPro, Alicia M. Eidesund Casting can manage self-tape auditions of actors as well as the availability and bookings of extras via a single link.
We are pleased to open up all possibilities for Alicia M. Eidesund Casting to enable all areas, from the main cast to booking extras, in one online system.
Schiwago Film – Ostfriesland Krimis
Production Company, In-house Extras Department
As part of the "Ostfrieslandkrimis", Schiwago Film uses their account at CastConnectPro to determine the availability of extras online in order to book extras and brief them for the respective shooting days. Self-tapes for small actor roles can be requested online via personalised upload links and seamlessly presented to the director after upload.
Via the interface between CastConnectPro and the payroll service adag, the entire billing can also be done digitally.
For future productions, all actors who have already registered online will be saved so that they can be requested again at any time.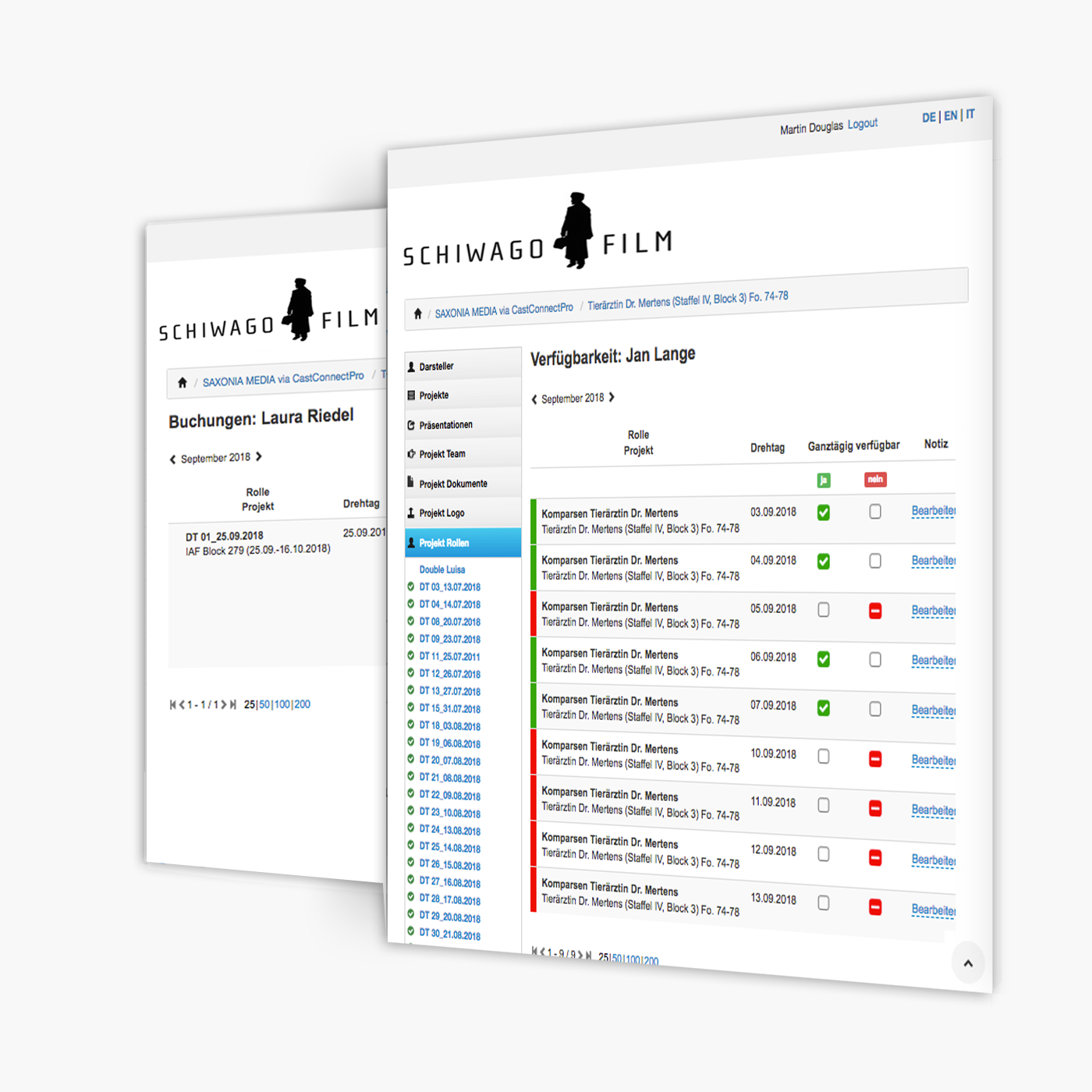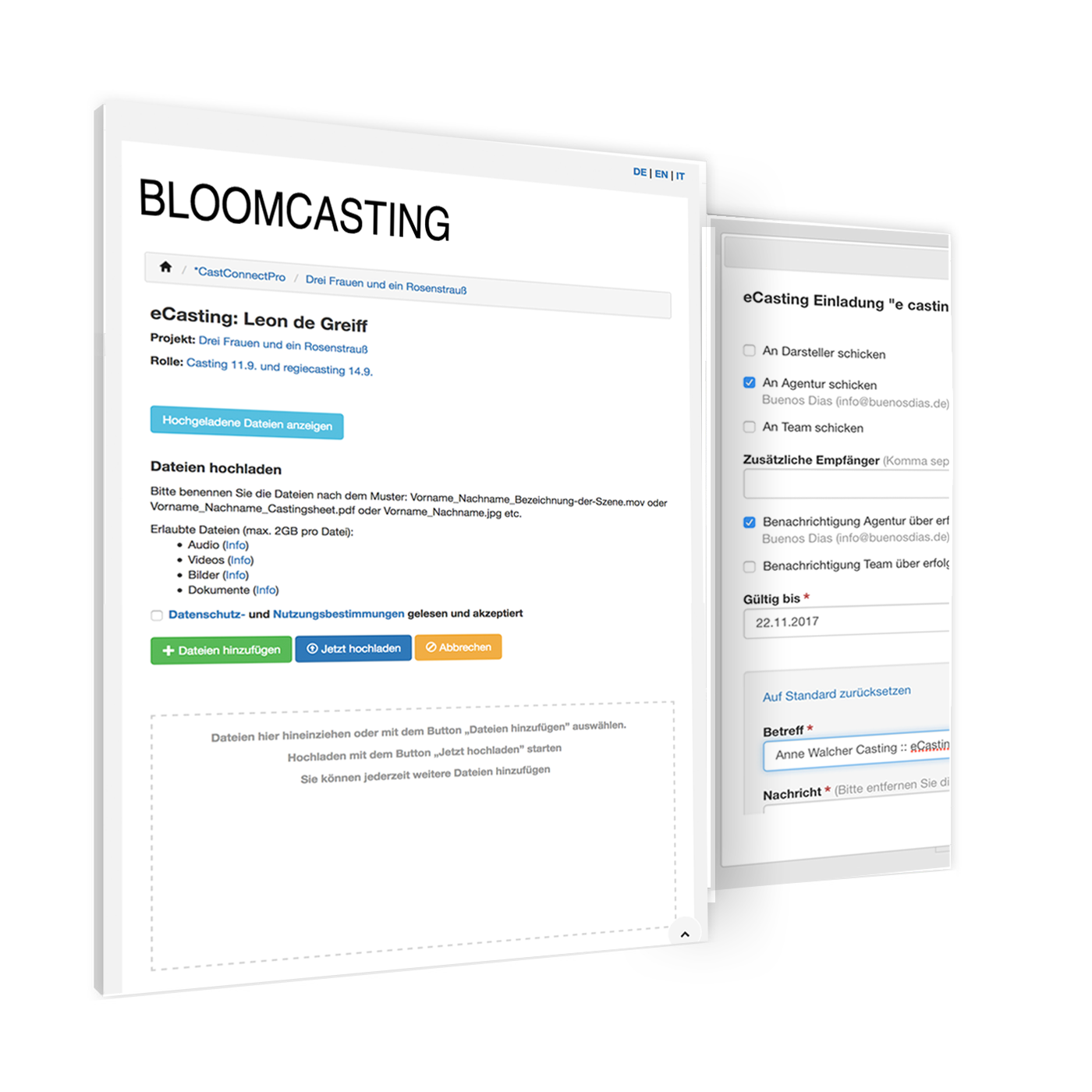 BLOOM CASTING
Commercial Casting
BLOOMCASTING is one of the top-class commercial casting agencies in Europe.
Particularly when casting international commercials, it is essential to be able to act quickly and reliably to request of film productions. For example, when it comes to creating online casting presentations with targeted content, download links containing one or more roles or PDF overviews with actors.
We are happy to support Casting Director Julia Todorow (Managing Director) and her team in managing their projects with the digital infrastructure of CastConnectPro.
Saxonia Media
Production Company, In-house Extras Department
Saxonia Media in Leipzig was one of the first film productions to start using CastConnectPro for the administration, scheduling and booking of extras for the TV series "In aller Freundschaft".
With the changeover to digital employment contracts via the interface from CastConnectPro to adag, the Erfurt production for "Die Junge Ärzte" followed  to  to manage all extras online in their own account within CastConnectPro.
In June 2021, "WaPo Bodensee" also got its own account to efficiently organize all extras for the Saxonia Media TV series.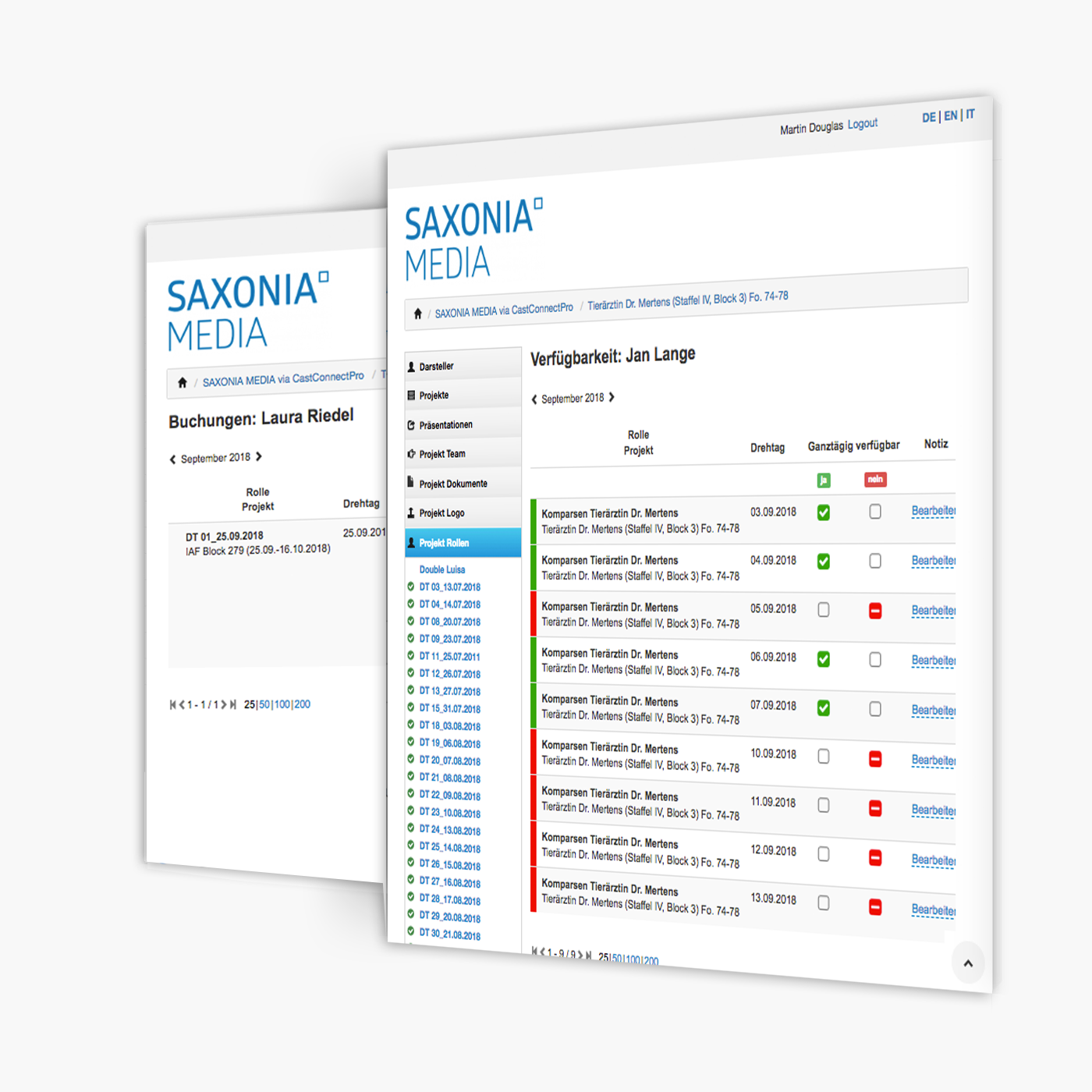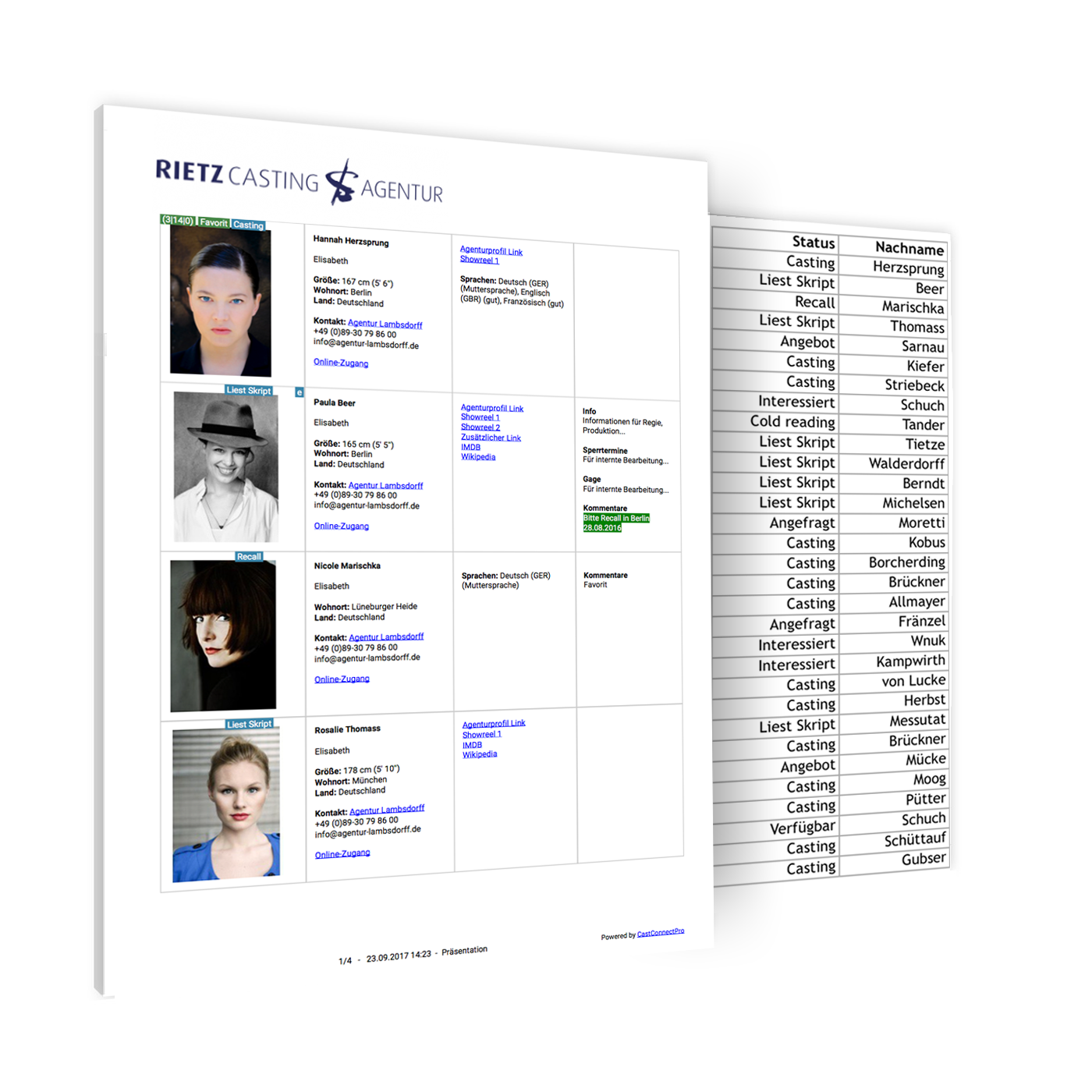 Jacqueline Rietz
Casting Director
Jacqueline Rietz is one of the most renowned casting directors for the casting of child and youth roles, based in Potsdam, Babelsberg. We are happy that Jaqueline Rietz and her team have been supporting us with valuable feedback in the further development of CastConnectPro since the "early days".
Today "Rietz Casting" uses CastConnectPro not only for the online management of extensive and differentiated casting projects, but also for public research and application of undiscovered talents via Facebook and Instagram.
Get a personal presentation of Cast Connect Pro's features and benefits and test Cast Connect Pro free of charge with your own project – arrange an appointment by phone +49 89 340 76 844 or by email.