Cast Connect Pro's Actors Directory
&

seperate, own talent database
Versatile & differentiated
Use the integrated international actors directory or create additional profiles in your own talent database.
Grant access to actors to let them update their profile themselves by sending them a profile-link. No matter if you have 100 or 15,000 profiles in your database.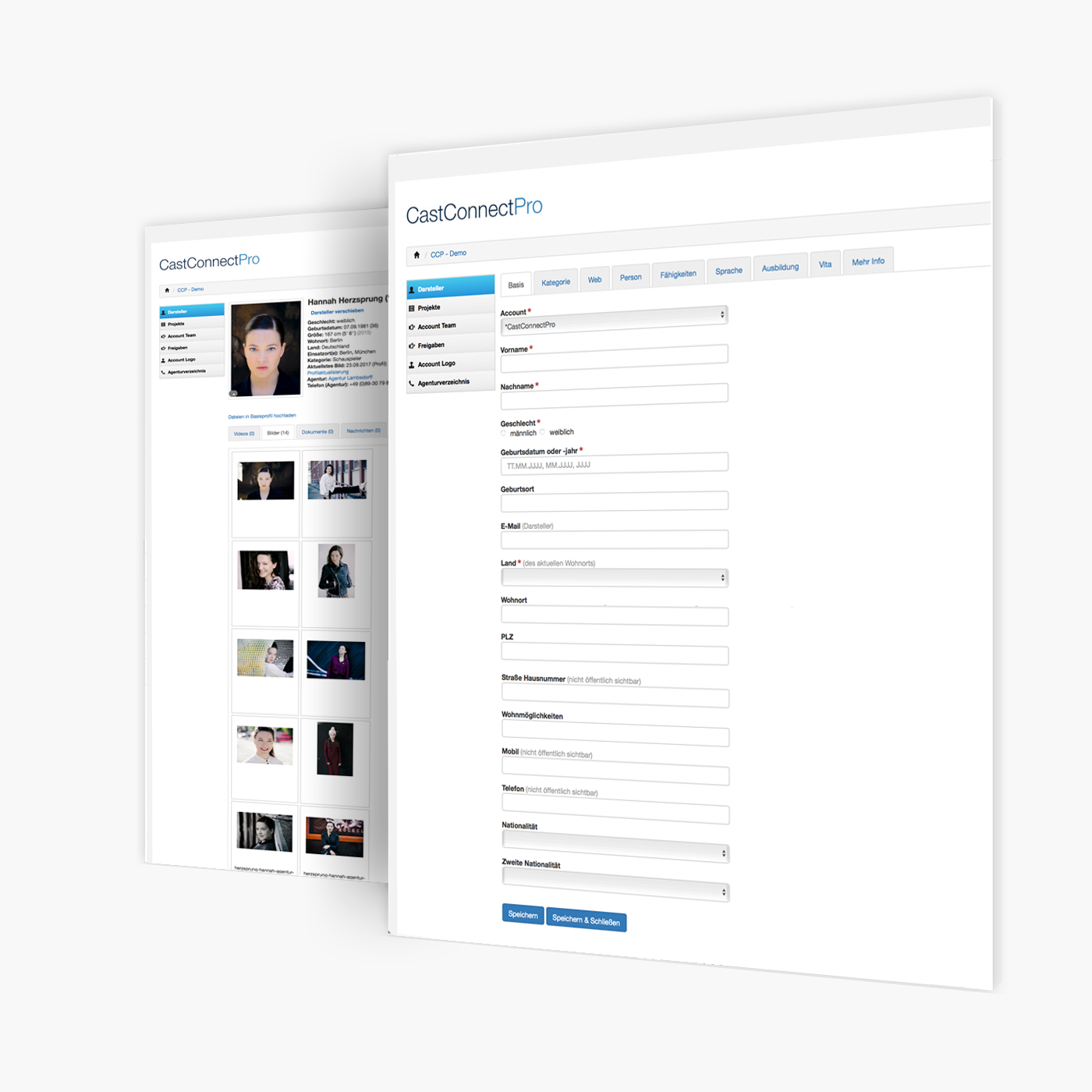 1
Versatile profiles with external links to existing content on the internet: agency, showreels, homepage, ImdB, Instagramm …
2
Through a profile link via email the actor updates his profile independently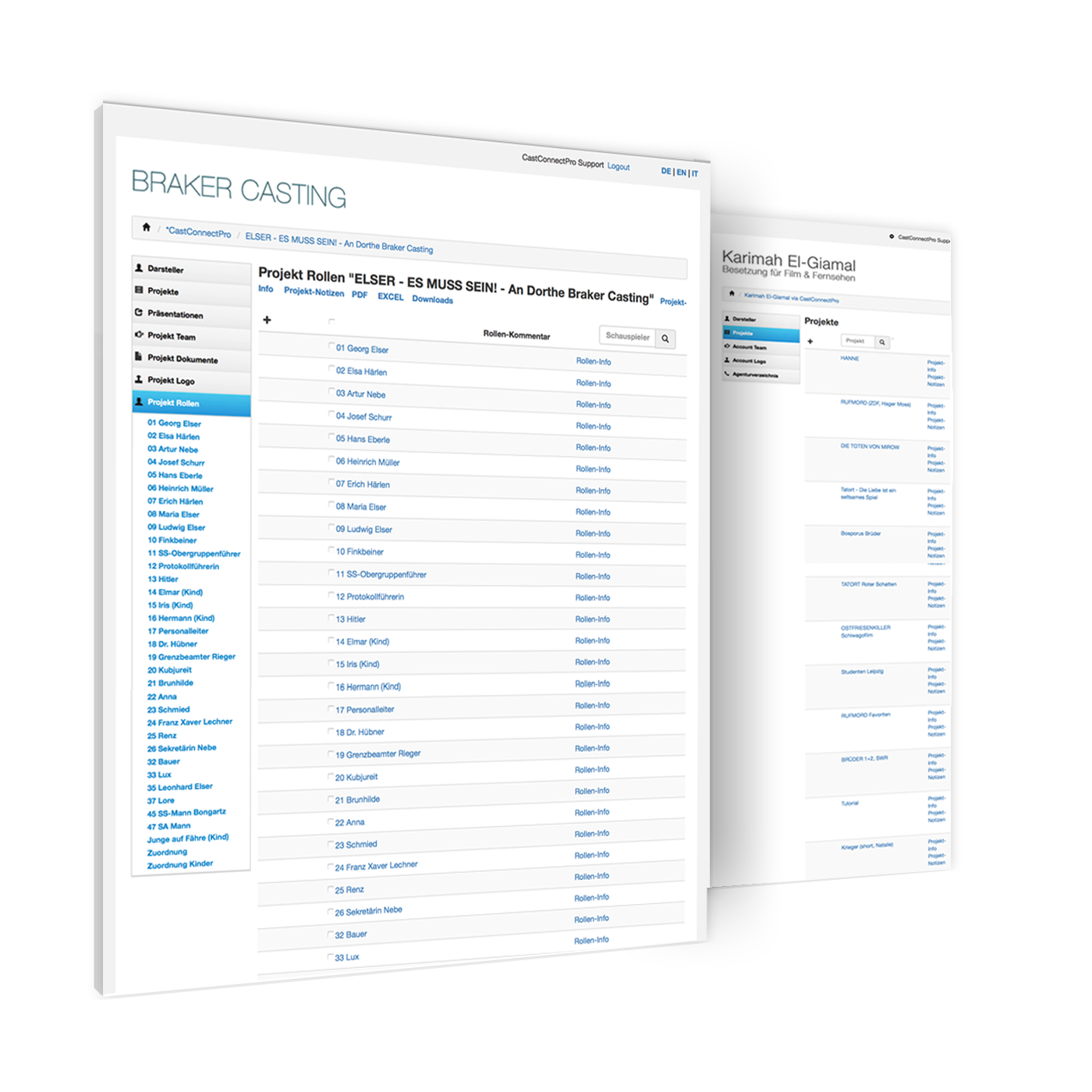 1
Project overview with quick access to project info
2
All roles at a glance with role-specific info
In your project overview you change quickly from one project to another, and see all the roles at a glance.At any time new roles can be added and already created roles can be edited.
Individual casting presentations for director, production crew and customer
Whether it's about agency contacts, notes, comments, blocked dates, the age of the performers or particularly sensitive information such as salaries: You determine, if, when and who gets to see what when.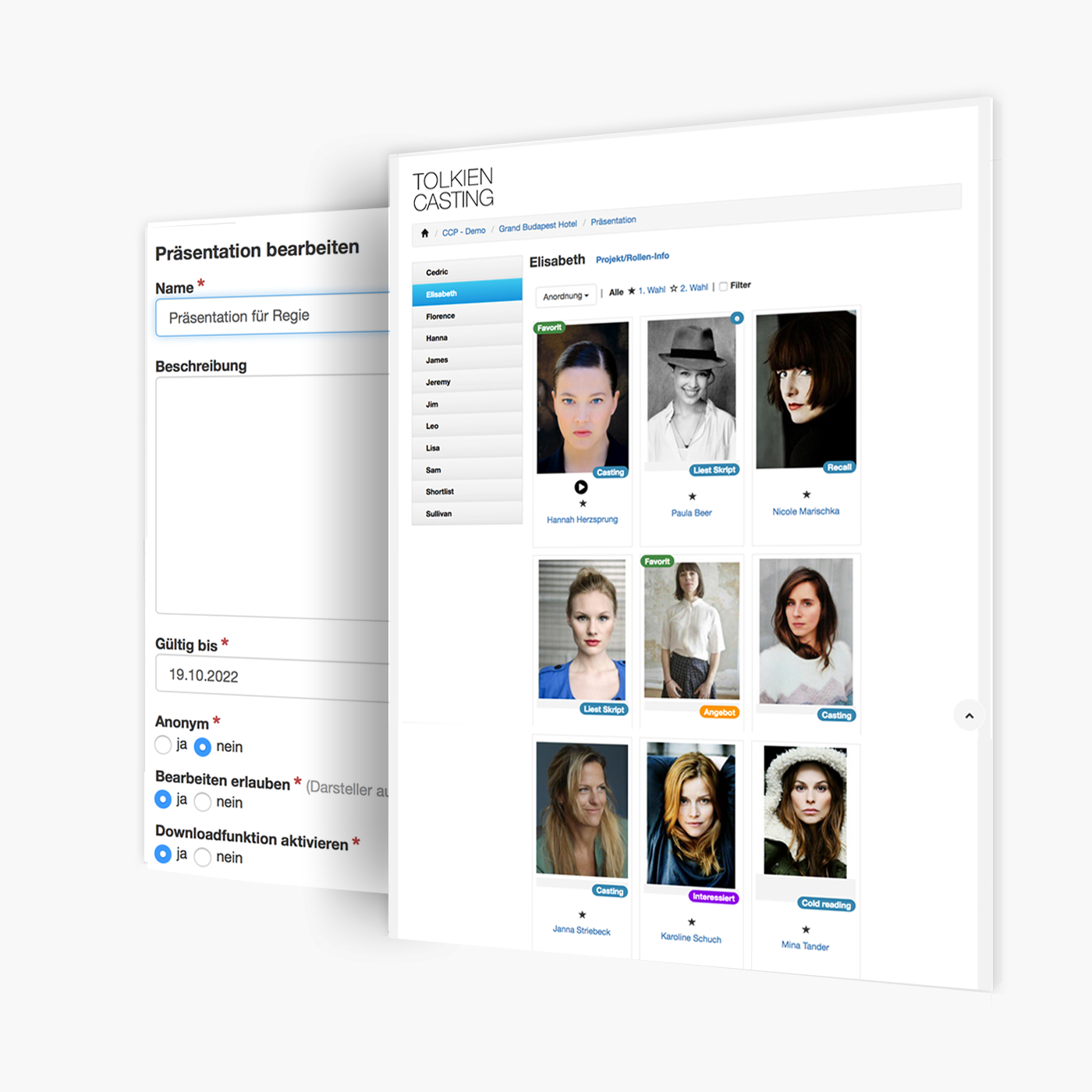 1
Casting presentations via a secure link. You determine, if, when and who gets to see what when
2
Casting presentations with video preview for easy viewing.  Activate commentary function and let your director set actors to  1./2. choice, if required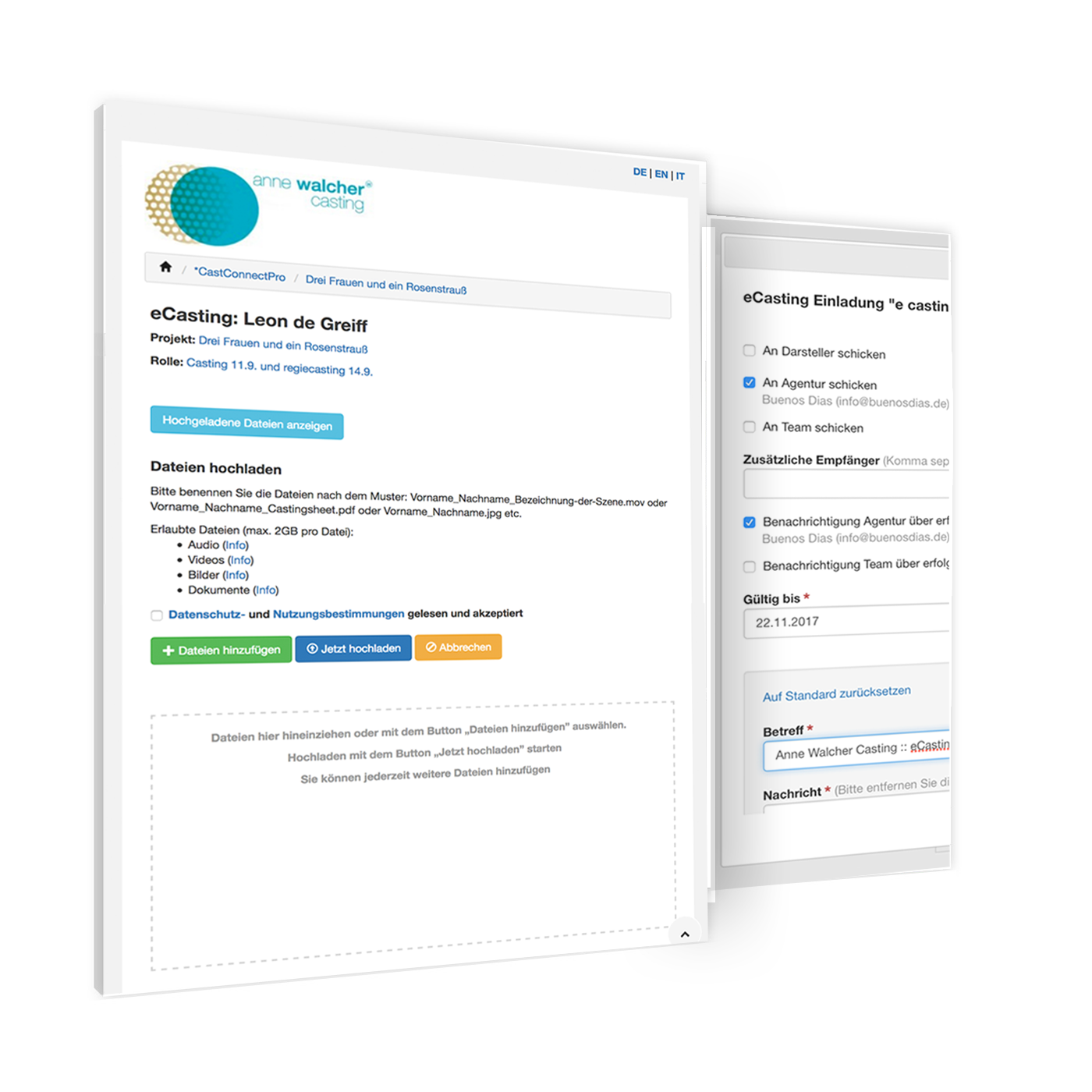 1
Upload site for self-tapes
2
Send self-taps links to single or multiple actors at once
Short distances – easy upload
With a few clicks actors receive personal links to upload their self-taped audition. Uploads are routed directly into the project files.
If required, you can activate the automatic email notification for new uploads.
Almost runs by itself – you can concentrate on content
Whether you are doing an open call, or if you want to embed an online form on your website. A set-up for a submission link is done within minutes and then it runs practically as if by itself.
You concentrate on applications, CastConnectPro does the technical work for you in the background.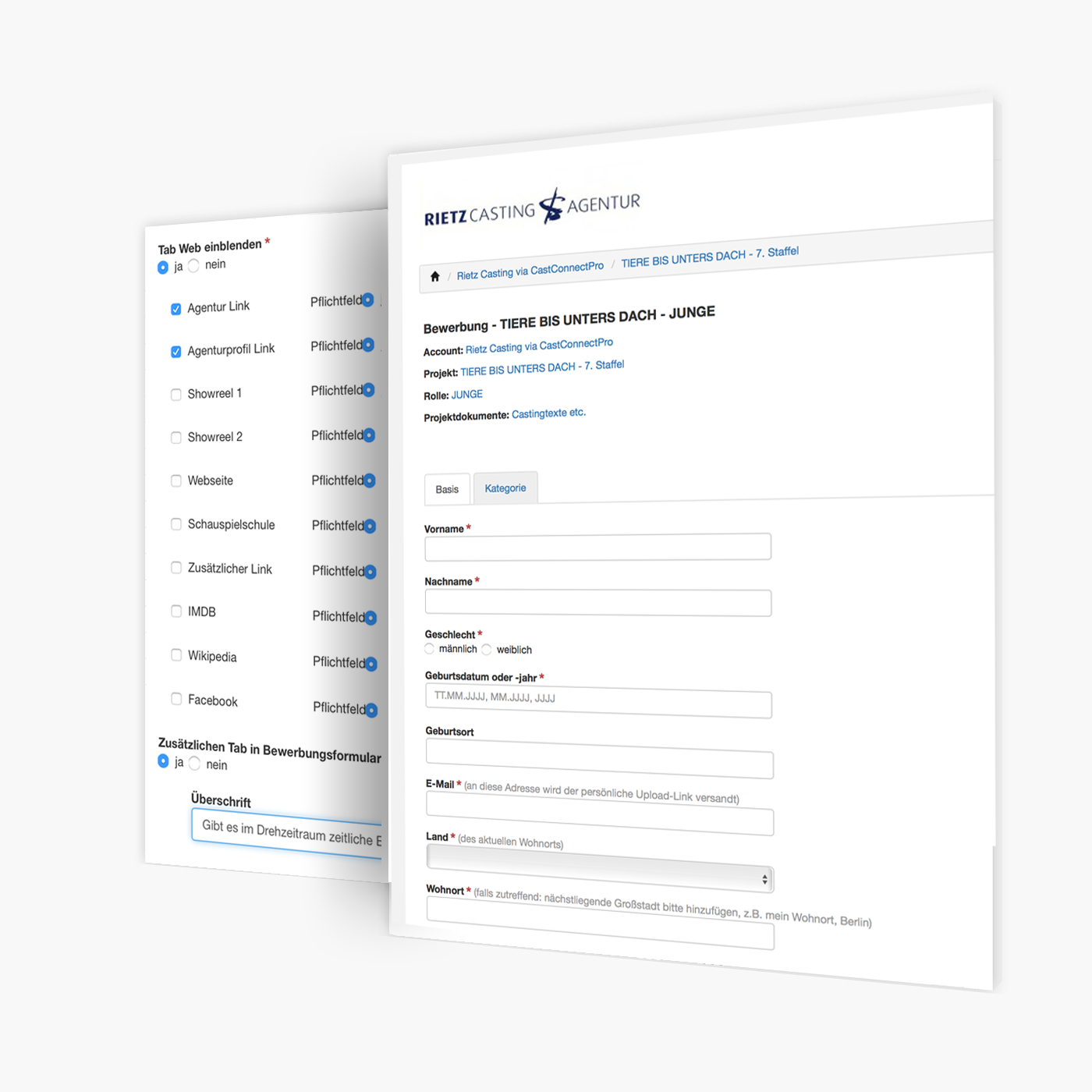 1
Online submission forms for as direct link or for embedding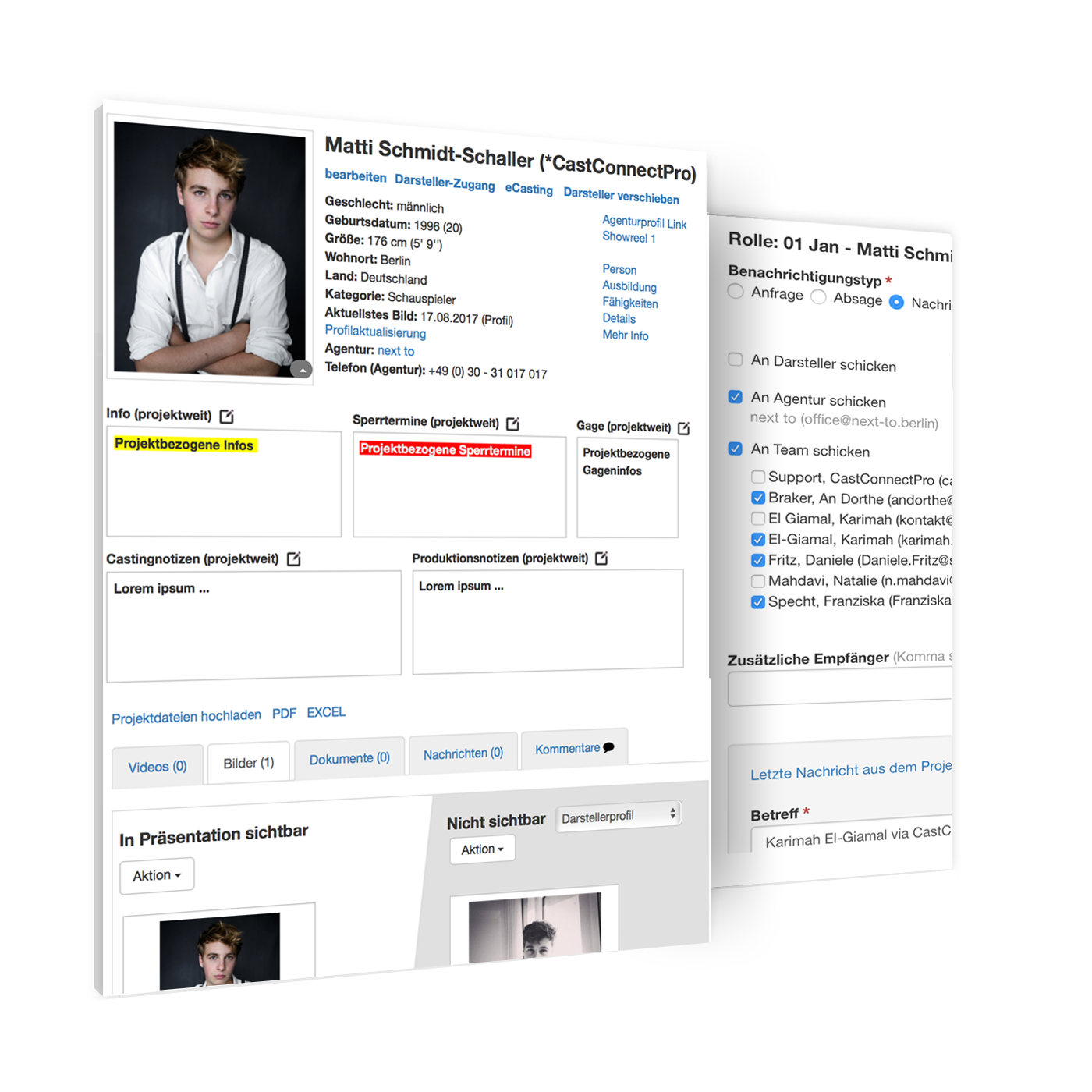 1
iend Inquiry, message, self-tape link, emails to actors, agencies and cc your team
2
Separate fields for actor-specific information.
All at a glance – always up to date
Projektbezogene Infos zu einzelnen Schauspielern, Sperrtermine, Gageninformationen, interne Castingnotizen, Kommentare: Du hast alles im Blick und kannst genau festlegen, wer, wann was sieht und ggf. bearbeiten darf.
Die "Caster – to – client" und "Caster – to Caster" Kommunikation erlaubt zuverlässige und klare Kommunikation zum Kunden bzw. zu Team-Mitgliedern unter sich.
For larger and international productions you can scale up team and activate the relevant project in a matter of seconds for as many additional staff members as you like.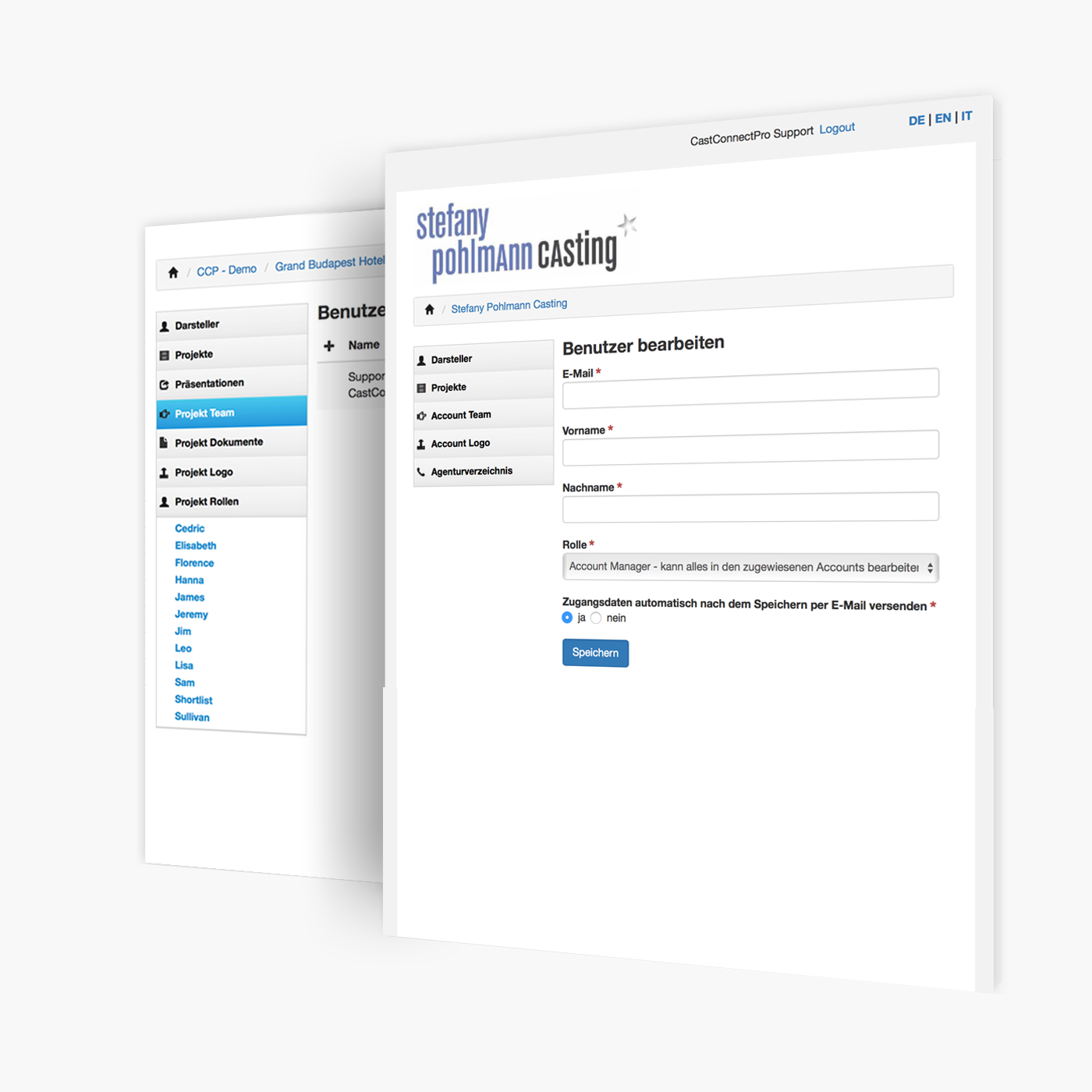 1
Add team members in your account
2
Add team members to your project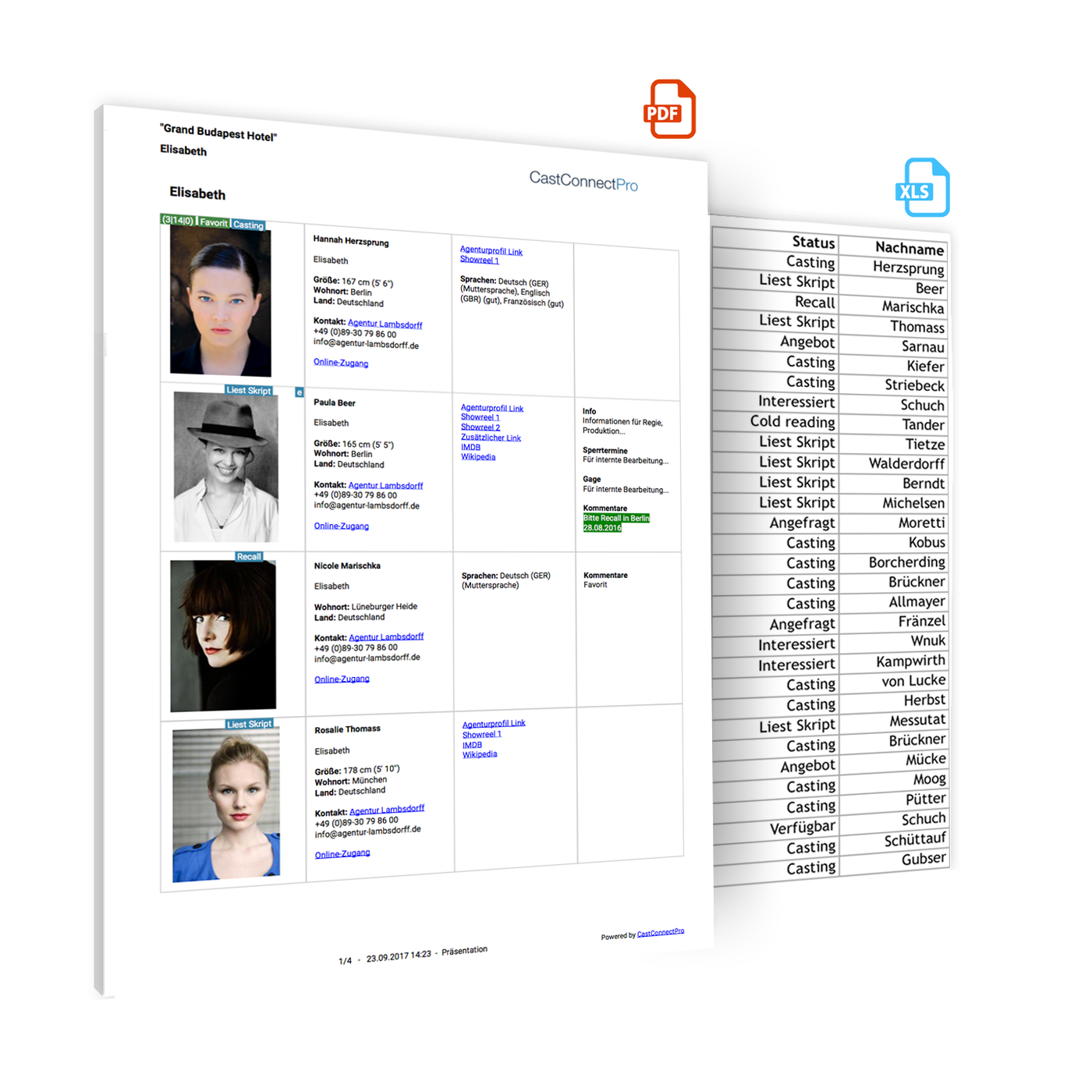 1
Comprehensive PDFs with many practical options
2
Versatile EXCEL export options.
Export project as PDF, XLS, download as ZIP
Create PDFs or EXCEL tables or ZIP downloads of whole projects, selected roles or individual actors.
Of course you can also determine, which information, videos, pictures about PDFs, EXCEL files are to be seen or accessible for the recipient.
Of course there is more to discover
Further noteworthy features:
Do you want to learn more about a CastConnecPro's benefits – arrange an appointment by phone +49 89 340 76 844 or by email.